Oldies 102.9, WHYL wants you to have a sensational summer with our Summer Cyber Sensation!  Grand prizes include a Computer Barn-built Windows 10 laptop and carrying case from the Computer Barn with carrying bag, and an HP Officejet Printer from Carlisle Cartridge World…and a 2021 and '22 season pass for 2 at Hat Creek Farms, valued at over a grand!  Listen to Scott Johnson in the morning or JJ Randolph in the afternoon to win daily qualifier prizes like Seve-N-Dots pizzas, premium washes from South Hanover Street Car Wash, Hickory Ridge Restaurant dinners, and more! listen for details!
---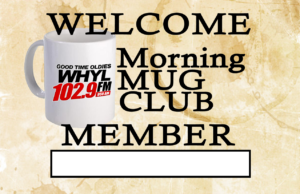 Morning Mug Club
Scott Johnson will be giving out a coffee mug every Monday and Wednesday on his morning show from 6-10 AM. Tune in to find out how to win and join the Morning Mug Club.
---
Here at Good Time Oldies WHYL, we thank you for playing our contests!
We must make it fair for all of our listeners. We limit prizes to one winner per household every 30 days, and that includes all prizes we give away.
Due to Covid-19, our office is closed to the public. We will be mailing out prizes for the foreseeable future.
If you have any questions, you can call us at at 717-243-1200.
Thank you again for listening and good luck playing our many contests!
WE'RE CENTRAL PENNSYLVANIA'S HOME OF GOOD TIME OLDIES, WHYL 102.9 FM & 960 AM.
 WHYL SUMMER CYBER SENSATION CONTEST RULES
Prizes being awarded: 1.  A completely refurbished ""Computer Barn built" Windows 10 laptop computer complete with an HP Office Jet printer with an approximate total value of $600, from the Computer Barn of Carlisle and Cartridge World of Carlisle.  2.  A season pass for 2 for the weekly band nights (Friday and Saturday nights) at Hat Creek farms of Plainfield, good for the remainder of the 2021 season and the entire 2022 season, with an approximate value of $1000.  3.  Ten $102 Visa or store gift cards from 10 local businesses, including Fetterman Insurance of Carlisle, Funk's Well Drilling of Newville and Carlisle, H & H Chevrolet-Cadillac of Shippensburg, Wenger Meats and Ice of Carlisle, Bonnie Heights Homes of Carlisle, Cumberland Waterproofing of Carlisle, Trindle Thrift and Discount of Mechanicsburg, Kevin Bear Jewelers of Carlisle,
E & N Construction of Dillsburg, and Carlisle Auto and Truck Salvage of Carlisle. 
Listeners qualify to win the prizes by being the correct number caller when a cue is given to call on WHYL, AM 960 and FM 102.9, weekdays between 6 and 10 am and 3 and 6 pm between the dates of June 14th, 2021 and July 30th, 2021.  In each case the caller receives a qualifier prize, valued at between $10 and $30, and qualifies to attend the Grand Prize drawing to be held between 5 and 7 pm on Saturday, July 31st at Hat Creek Farms in Plainfield.  Listeners may also qualify at live broadcasts leading up to the Grand Prize drawing. All qualifiers' names will be entered into the drawing to be held that evening.
No purchase is necessary to enter this contest or any WHYL contest by calling WHYL and qualifying for the grand Prize drawing.  WHYL reserved the right to air contestant's voices when they call in and qualify.    
Employees of radio stations WHYL, WIOO, WEEO, and WCAT and employees of any of the contest sponsors and their immediate families are not eligible to win. 
All contest participants must be at least 18 years of age and possess a valid PA state driver's license or a state-issued identification card to participate and may be asked to show such a card to pick up prizes.
WHYL, WIOO, WEEO and WCAT do not discriminate in any way on the basis of race or gender in the awarding of any contest prizes.