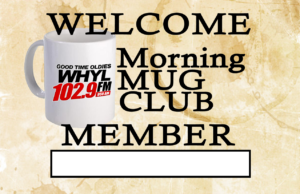 Morning Mug Club
Scott Johnson will be giving out a coffee mug every Monday and Wednesday on his morning show from 6-10 AM. Tune in to find out how to win and join the Morning Mug Club.
---
Here at Good Time Oldies WHYL, we thank you for playing our contests!
We must make it fair for all of our listeners. We limit prizes to one winner per household every 30 days, and that includes all prizes we give away.
Due to Covid-19, our office is closed to the public. We will be mailing out prizes for the foreseeable future.
If you have any questions, you can call us at at 717-243-1200.
Thank you again for listening and good luck playing our many contests!
WE'RE CENTRAL PENNSYLVANIA'S HOME OF GOOD TIME OLDIES, WHYL 102.9 FM & 960 AM.